Stellar Kayaks and Surfskis have been delivering innovative products across North America since 2009. The Stellar Kayak line includes a full catalog of kayaks, surfskis, paddles and accessories, each with a unique purpose. Performance Kayak has been offering the beautiful Stellar Kayak & Surfski line since 2013.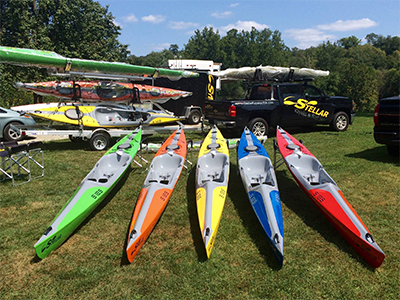 We pride ourselves on having the largest inventory available.
What makes a Stellar Kayak better? At Performance Kayak, we like to think it's the materials, process and selection:
Materials
Stellar Kayaks use premium materials from companies, like Dupont Kevlar, Toray Carbon, Lantor Core and 3M. These materials cost more, but provide you with a superior boat in mechanical strength, aesthetic finish, optimal weight and consistent performance. They process those those materials with epoxy resin, heat curing, vacuum and infusion to create the some of the best boats on the market.
Process
Being an ISO 9001 Certified Company, Stellar Kayaks has the quality assurance in place in every step of the manufacturing process, from material purchasing through the final stages of production. This level of scrutiny keeps the production quality and consistency at a high level that you demand and expect.
Selection
Stellar Kayaks offer more than two dozen different kayak models, from recreational and sit on top models, to models specifically designed for long-distance touring and racing.

Stellar's Surfski options are impressive, too, with ten models built for speed and stability. Be sure to check out all of the options available at the Stellar Kayaks & Surfski website, located here.
With so many different options, paddlers are certain to find the perfect Stellar Kayak for them. At the same time, dealers like Performance Kayak know that once you've settled on a model, that's the one you want. For this reason, Performance Kayak always maintains higher inventory than anybody else.
Call Performance Kayak today and ask about your next Stellar kayak or surfski.
And don't forget to check out our P&H Custom Sea Kayaks, too!