Looking for a Stand Up Paddleboard and concerned about storage or transportation? If so, there's no finer product on the market today than the NRS iSUP Inflatable Paddleboard Series.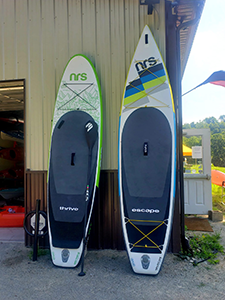 The NRS iSUP product line hits every category, from race/touring models to all round boards, to river specialty shapes. Anglers particularly love the models built for fishing, with pontoons and attachment points – features any angler will love!
NRS has existed on the river paddling scene long before SUP was a thing. Not surprisingly, this history in inflatable rafting led to some different design choices compared with other inflatable paddle boards. You'll find the Lealfield inflation valve and pressure relief valves, items which are uncommon on SUP boards. Fins on NRS boards are also brand-specific and are secured by attachment plates with a plastic tab and safety string.
The NRS iSUP line is extensive, with seven models, each with a different purpose:
Best All-Around iSUP: The Thrive Series
The NRS iSUP Thrive series includes four similarly shaped boards in sizes that appeal to paddlers of varying sizes, weight and stability needs. The Thrive 10.3 and 10.8 work well as an all-around board for most paddlers, though larger paddlers prefer the latter, due to its increased thickness. Young riders gravitate to the Thrive 9.10 , while larger riders opt for the Thrive 11.0.
Best Long Distance Touring iSUP: The Escape Series
For those looking to go further, the iSUP Escape Series offers boards, each designed for maximum efficiency. The 11.6 ESCAPE is a mid-length touring board with 32" of width for stability. The 12.6 ESCAPE is a standard racing length and is 30" wide, which provides a nice balance of speed and stability. The 14.0 ESCAPE is 29" wide, the narrowest of the group. At that width, it's a fast board designed for paddlers with experience.
Best River Surfing iSUP: The Whip Series
The NRS iSUP Whip Series boards are made for surfing river waves. These are relatively short boards with high nose rocker and extra width toward the nose. The 7.8 WHIP and 8.4 WHIP are very similarly shaped, so the choice between the two will depend on the rider's weight and the type of wave most likely to be surfed, with the 7.8 having an advantage in tighter 'hole' type waves and the 8.4 excelling on larger, more gradual waves.
Best White Water iSUP: The Quiver Series
For downstream river running, you won't find a better choice than the NRS iSUP Quiver Series boards. Available in 9'8" and 10'4" lengths, the Quiver Series is stable in turbulent water and glides easily over eddy lines and boils thanks to its wide width.
Best Fishing iSUP: The Heron or Osprey
The NRS iSUP Osprey is a wide and high volume board equipped with mounting plates for attaching rod holders and other fishing attachments. Bungee systems at the front and back hold tackle bags, coolers and other gear. The NRS iSUP Heron has enhanced stability from the addition of pontoon-like outrigger tubes along each side.  The Heron is available in olive green or camo.
Best iSUP for Yoga: The Mayra
Looking to take your zen to a new level? Yogis everywhere choose the NRS iSUP Mayra. With deck pads the shape and texture of a yoga mat, the Mayra transforms bodies of water into an oasis of zen. Four d-rings at the nose offer the ability to attach a strap or tie down supplies.
Best iSUP for Kids: The Youth Amp
Built for those under 115 lbs, the NRS Youth Amp is just 29" wide, allowing smaller paddlers to easily reach over the side. At just 9'2″ long, this iSUP is also easy to carry. The versatile all-around shape helps riders develop skills in different areas of paddle boarding, including flat water, whitewater, and surfing.
With so many options to choose from, it's obvious why paddlers everywhere choose an NRS iSUP inflatable paddleboard.
Looking for more stand-up paddleboard options? Be sure to check out our other line from ECS!