Native Watercraft Fishing Kayaks stay a step ahead of the evolving needs of today's paddlers. They raise the bar on comfort, gear accessibility and user-friendly outfitting.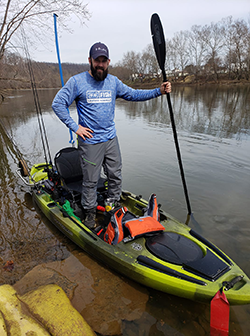 Most Native Watercraft employees enjoy a long history knocking around water and the outdoors as a passion and, now, a career. There are decades of boat-building knowledge behind each Native Watercraft Fishing Kayak, and a passion for paddling's history and its future.

Native Watercraft utilizes the newest materials and techniques. That's how they get to break-through ideas like First Class Seating, Adapt-A-Track, Propel Pedal Drive and Ultimate Tegris. These features ideas elevate the experience, add performance and increase user comfort.

Like many kayak manufacturers, Native Watercraft calls North Carolina home. There's great white water in the mountains west, salt marshes and the Outer Banks east, and lots of good lakes in the middle. Their prime location allows Native to work with amazing local talent and partner with domestic suppliers.

Native Watercraft employees know that without a clean environment, paddling has no future. They are committed to taking their environmental impact as close to zero as possible. From utilizing components ideal for recycling post-use to a company-wide recycle-reuse-repurpose mantra, Native Watercraft continuously seeks to leave the world a better place.

Getting you in a Native Watercraft means visiting a specialty retailer like Performance Kayak. Customers get the benefit of a knowledgeable sales staff skilled in recommending and outfitting your perfect kayak.
The Native Watercraft Fishing Kayak line includes nearly two dozen models, representing three main categories:
Native Watercraft Pedal Fishing Kayaks
Each Native Watercraft pedal drive fishing kayak features a unique, proven propel pedal drive system. Our system allows hands-free, forward and reverse propulsion! The ability to use both of your hands for casting and fighting a fish without juggling a paddle provides a huge advantage when kayak fishing. Anglers maintain their position longer to stay on the fish while casting.
Native Watercraft Sit-On-Top Fishing Kayaks
Featuring a unique high/low, hand-sewn in the USA framed seating, tNative Watercraft sit on top fishing kayaks are among the most comfortable and stable kayaks available! Customize these unique designs for your personalized kayak fishing experience. These sit-on-top fishing kayaks excel on slow moving rivers, lakes, bays and oceans.
Native Watercraft Hybrid Fishing Kayaks
Offering the best features of a kayak and a canoe, these hybrid fishing kayaks provide a unique experience. The Native Watercraft patented, tunnel hull allows more foot comfort when standing and unmatched stability. These hybrid canoe/kayaks perform best on bays, lakes and slow-moving rivers. The open canoe-like cockpit offers ease of loading and unloading and makes our hybrids some of the premier fishing, hunting and camping kayaks on the water.